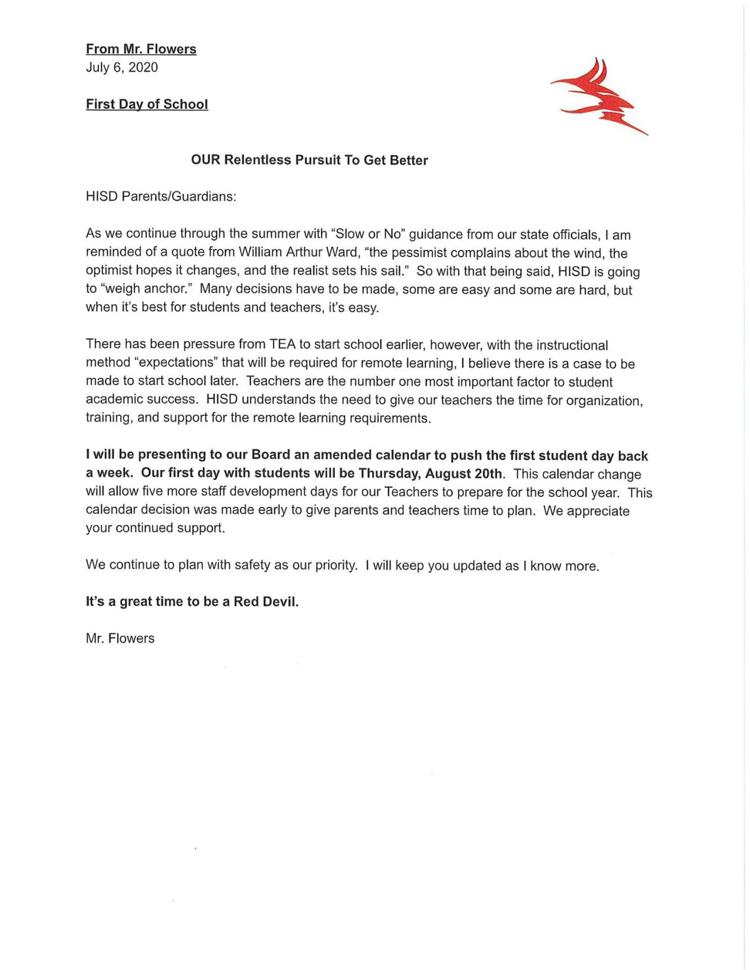 Huntington ISD Superintendent David Flowers released a letter to parents announcing the plans to present an amended 2020-21 calendar to the school board that pushes the school start date to Aug. 20, one week later than intended.
"There has been pressure from TEA (Texas Education Agency) to start school earlier; however, with the instructional method 'expectations' that will be required for remote learning, I believe there is a case to be made to start school later," Flowers said. "Teachers are the No. 1 most important factor to student academic success. HISD understands the need to give our teachers the time for organization, training and support for the remote learning requirements."
Should the board approve the amendment during a special meeting on July 14, the calendar change would include five more staff development days for teachers to prepare for the school year.
The TEA announced districts should prepare for synchronous remote instruction and/or asynchronous remote instruction to prepare for school closures because of the pandemic. The preparation includes training for staff on the new methods of instruction.
Synchronous instruction is described as two-way real-time/live, virtual instruction between teachers and students when students are not on campus. Remote asynchronous instruction is described as instruction that does not require having the instructor and student engaged at the same time but with digital and online learning resources like prerecorded video lessons.
"The COVID slide is real," reads a document from the TEA on preparing for remote instruction. "Especially for students from low-income families. But not necessarily for those from high incomes. We must ensure that remote instruction is delivered as effectively as we possibly can, for all of our students.
"We cannot allow this public health crisis to become a generational education crisis."
The document included a graphical representation of student learning that said, as of May 24, students from low-income ZIP codes decreased progress in online math coursework by 55.6% compared to January 2020 while students from middle income decreased by 34.2% and students from high income increased by 4.8%.
When asked why he decided to make this decision now, Flowers said he wanted parents to have time to prepare for childcare and for teachers to be at ease to know they would have time to prepare for the new modes of learning.
"I felt like the anxiety and angst was going to be sky high from our staff, so by giving those five extra days of staff development on the front end would allow them some time to work through some things, find out what really works to go through that," Flowers said.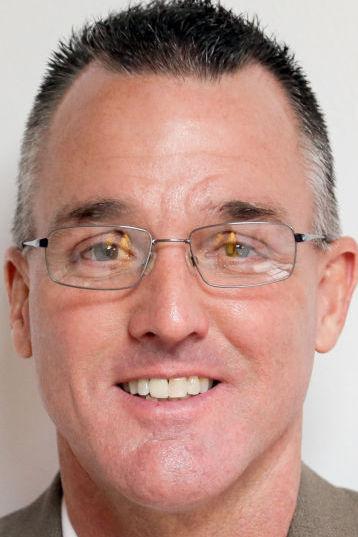 In the letter, Flowers referenced a quote from William Arthur Ward: "The pessimist complains about the wind, the optimist hopes it changes, and the realist sets his sail."
He said the summer is continuing with "slow or no" guidance from the state, and the district is going to "weigh anchor" and begin to make some decisions.
"Many decisions have to be made, some are easy and some are hard, but when it's best for students and teachers, it's easy," he said.