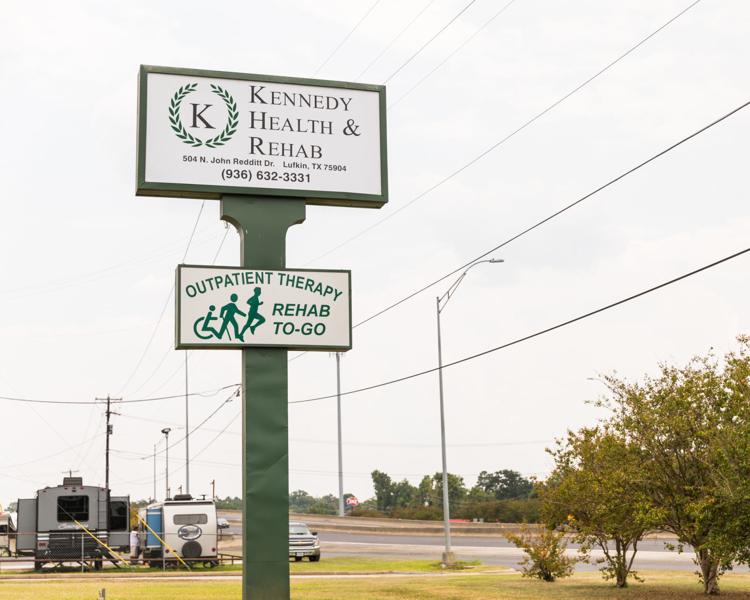 While the number of COVID-19 cases has exploded in Texas nursing homes this month, Angelina County is bucking that trend.
The state today had confirmed 9,220 cases of nursing home residents through July 14 — four times more than the number recorded in June, according to the Texas Department of State Health Services. Yet those numbers — first released by the DSHS this week — show our local nursing homes have remained relatively unscathed.
However, several readers have reached out to us to dispute the numbers some of our local nursing homes have self-reported to the state. Anyone who has reason to believe the numbers aren't accurate is encouraged to reach out to us at news@lufkindailynews.com.
After insisting for months that the information was not subject to public disclosure due to privacy laws, the DSHS released its first list of COVID-19 cases and deaths from individual Texas nursing homes, assisted living facilities and state supported living centers on Monday, after the state attorney general's office recently ruled that the agency is required to do so. Data from the DSHS is two weeks behind for nursing homes and assisted living facilities while it's current for state supported living centers.
As of July 14, Castle Pines Health and Rehabilitation has had four employee cases of COVID-19 with just one currently active; Huntington Health and Rehabilitation has had one employee case, which is still active; and Parkwood in the Pines has had one employee case, which is no longer active. None of those facilities has had a resident test positive for the novel coronavirus.
There have been no resident or employee cases of the coronavirus at Kennedy Health and Rehab, Larkspur, Pinecrest Retirement Community, Southland Rehabilitation and Healthcare Center or Trinity Nursing and Rehabilitation of Diboll LP.
The categories include active and cumulative categories for COVID-19-positive employees and residents, but only include the numbers of recoveries and deaths for residents.
The data will be updated by 3 p.m. Monday through Friday except for state holidays at tinyurl.com/yxbnm4lv.
There have been no cases of COVID-19 reported at Neches House, Pinecrest Retirement Community Assisted Living Unit or Pinnacle Senior Living of Lufkin.
As of Monday, the Lufkin State Supported Living Center has four active cases, four recoveries and no deaths out of its 265 residents served. The facility has 22 active employee cases and has had 17 staff members who have previously tested positive, but have recovered and returned to work in compliance with CDC guidelines, out of 1,069 positions. There is not a category for staff deaths.
Nursing homes in Nacogdoches County haven't fared as well as their Angelina County counterparts through July 14, according to numbers released today.
Garrison Nursing Home & Rehabilitation Center has no active employee cases, 18 cumulative employee cases, seven active resident cases, 17 resident recoveries, seven resident deaths and 31 cumulative resident cases.
Senior Care of Stallings Court has 14 active employee cases, 24 cumulative employee cases, 13 active resident cases, 17 resident recoveries, eight resident deaths and 39 cumulative resident cases.
Westward Trails Nursing and Rehabilitation has two active employee cases, 11 cumulative employee cases, 44 active resident cases, eight resident recoveries, five resident deaths and 57 cumulative resident cases.
Willowbrook Nursing Center has seven active employee cases, seven cumulative employee cases, 17 active resident cases, one resident recovery, two resident deaths and 20 cumulative resident cases.
Rock Haven Nursing home has had no cases of the coronavirus.
There also have been no cases of COVID-19 at either of Nacogdoches County's assisted living facilities, Magnolia Court Assisted Living and Memory Care Community and Meadowview Place.
More than three quarters of Texas' 1,215 nursing homes have reported at least one case of COVID-19 since the start of the pandemic, an increase of the just more than half reported by the end of June. Likewise, the state's assisted-living facilities reported 1,163 cases to the DSHS through July 14 compared to 267 in June.
Of Texas' 5,877 deaths, one-third were nursing home residents. Nationally, more than 40% of COVID-19 deaths are linked to senior-care centers, according to the New York Times.
The Texas Tribune contributed to this report.