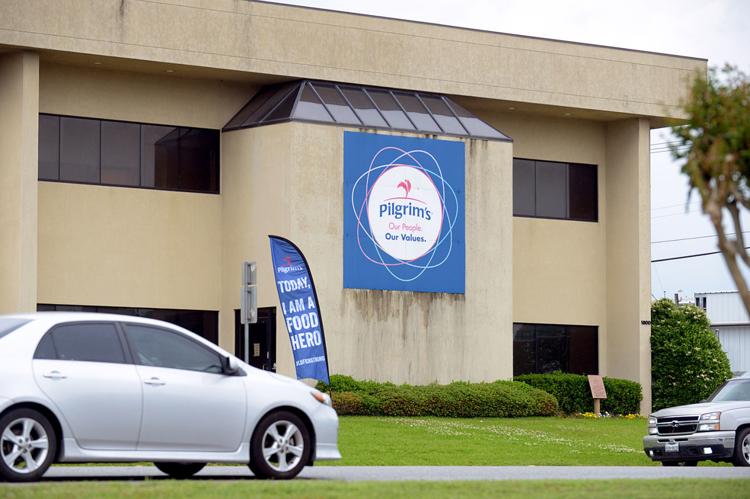 A hushed voice cracks over the phone line as a man struggles to explain what he was hearing at work: Someone on his shift at Pilgrim's Pride tested positive for COVID-19. Nobody told the workers.
A click and the caller ID reading "anonymous" disappeared, effectively ending the first of what soon would be a flood of anonymous tips from scared Pilgrim's employees.
On April 28, Angelina County officials said the majority of the 10 new positive cases of coronavirus confirmed the day before came from the Pilgrim's Pride plant, located on West Frank Avenue.
On Monday, Angelina County listed 24 new cases. Sharon Shaw, director of the Angelina County & Cities Health District, said there was an increase of positive cases at Pilgrim's Pride among that number, but didn't clarify how many.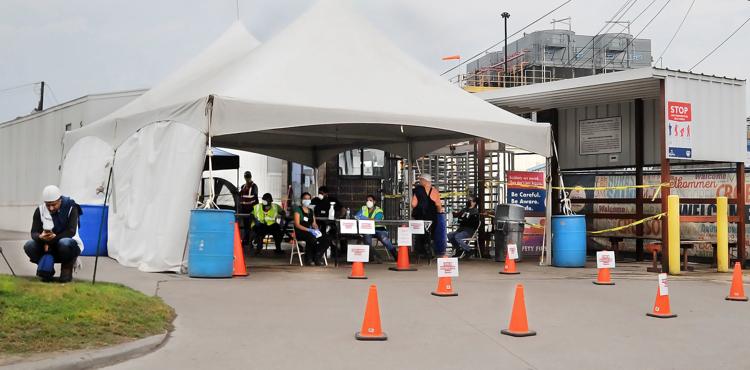 "Testing continues to increase as COVID-19 is getting a foothold in our community," she wrote in an email. "Individuals continue to be exposed and begin having symptoms which prompts the person to: stay home till they feel better, call the Coronavirus Call Center and get screened for a test, or visit the local emergency room."
She said testing and calls to the center continue to rise.
Pilgrim's Pride has not released a specific number of individuals affected at the plant, so most workers learn their information through whispered conversations.
Another email notification pings, another anonymous tip.
"Hello, first of all please keep my name out of this," it read. "The Pilgrim's plant in Nacogdoches has quite a few cases that they are not reporting. I feel, as a resident, that is very wrong. How can we get the word out on this? They are not reporting the cases of the virus that they have. I have family members that work there, and they could bring it home to us."
Ping. Ping. Ping. It goes again.
"I have it on personal authority from family who work at the plant, that they have had 40 cases of positive testing for coronavirus," another said about the Lufkin plant. "They are not sanitizing or protecting the workers."
Ping. Ping.
"I have a fiancé that works at Pilgrim's and from what he tells me, they are implementing all the safety precautions they can," another email reads. "They provided masks, but they don't make employees wear them at all times. … The masks, you should ask to see one. They are a joke. They are thin and see through. It's not as thick as T-shirt material so I don't know how it's supposed to help."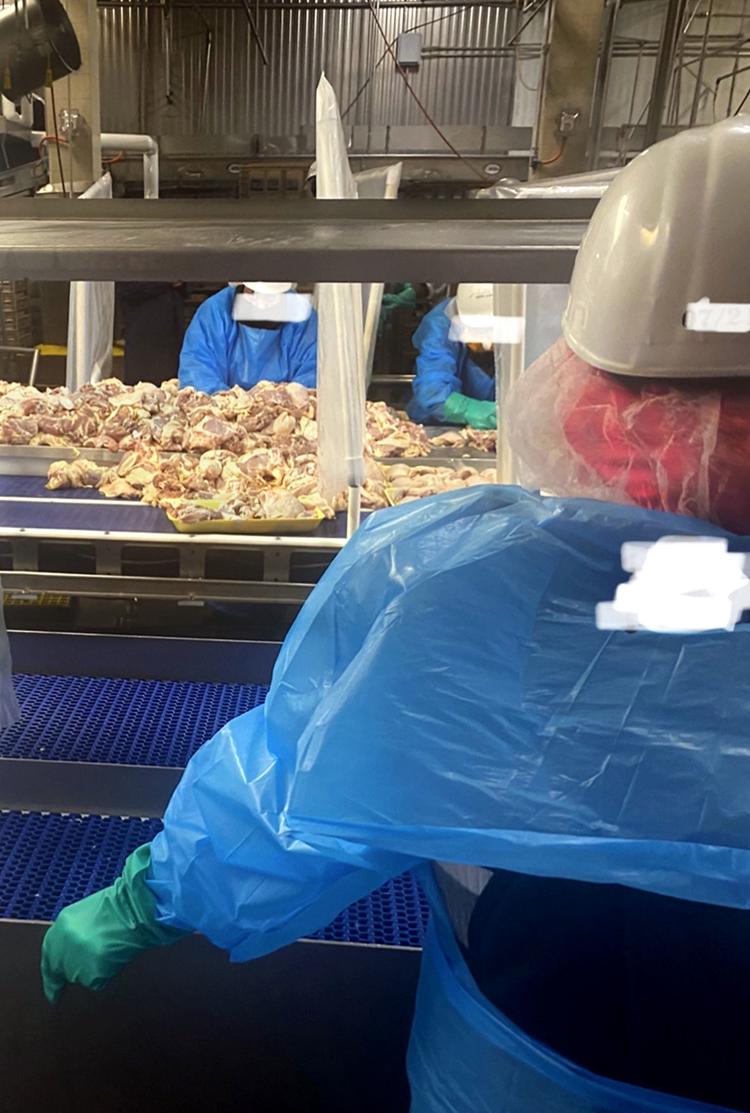 The Lufkin Daily News asked Pilgrim's Pride questions and for comment on four occasions. The company responded with the same written statement each time.
"The health and safety of our employees is our highest priority, and we will continue doing all we can to keep the virus out of our facilities," a portion of the statement reads.
"Pilgrim's Lufkin and Nacogdoches will remain open and operational."
They also emailed a statement they said, "if printed, should be printed in its entirety and attributed to Pilgrim's." That statement can be read here.
John Doe, an employee afraid of being identified, began working at Pilgrim's in the fall because he saw a good opportunity to make his own money, have his own place and support his son.
"I work at Pilgrim's Pride, Lufkin, Tx," he said in an email. "I read your article about the coronavirus. I wanted to say that they have told us there are two confirmed cases. … (They) actually kept it from us to make more profit while we are sidelined and unknowingly go about the day. This was before they started making us put on masks."
Doe believes the plant has done a decent job of sanitizing and cleaning the plant regularly, including in his department. Unfortunately, it's not his department he's worried about.
The shipping and labeling department is in a freezer, kept at 28 degrees, where workers are equipped with winter gear. Located toward the back middle section of the facility, it is easily visible from Frank Avenue where 18-wheelers dock, according to Goddess Freeman, a union steward at the Lufkin Pilgrim's plant.
Freeman believes that COVID-19 is primarily spreading in that area. The department is consistently short of workers because they're either out sick, being tested or have just decided not to come to work, she said.
"They're sending more people down there from each department," Doe said. "We're worried about cross-contamination. They're sending people in, but we don't know if they will get infected there. We don't know if they're bringing it back with them."
"They are sending people from other departments to go work in that area and do not know how COVID-19 is being spread," Freeman said.
She said they were unaware of more than two cases at the plant until The Lufkin Daily News reported that most of the 10 new cases on April 28 were from Pilgrim's. Freeman's supervisor told her there were only five.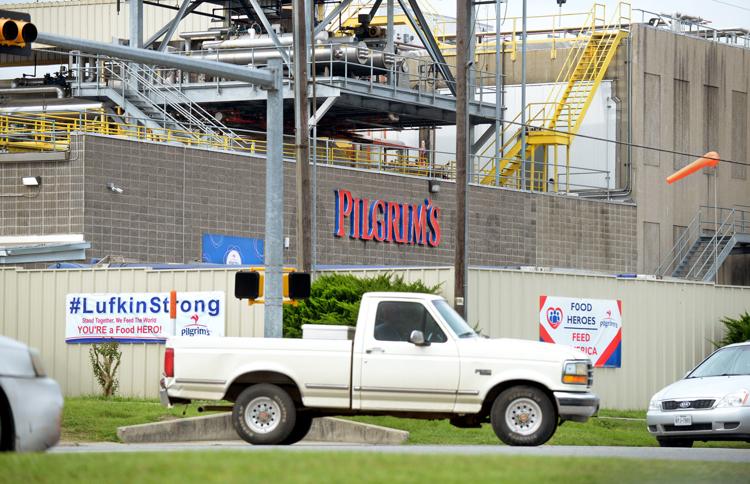 "My supervisor and HR threatened to fire me and said I was insubordinate if I didn't go work in shipping and labeling," Freeman said.
Freeman has been employed by Pilgrim's since February 2019. She only misses work to take care of her three children, she said. She has two daughters with health problems who need to be seen by specialists in Houston regularly and a son with asthma.
"I'm a mom. I'm the only one that runs my kids to doctors' appointments to Houston," she said. "Pilgrim's means my bills are paid and how big of a smile I can put on my kid's face. Of course losing my job would hurt; it's my source of income. But you know what will hurt more? If I have to put my daughter in a casket because of Pilgrim's."
The employees work on a "point" system. They are given a total of seven points — they lose a point for calling in for a shift or a half point for leaving early, Freeman said. Once an employee reaches 6.5 points, they're fired. Employees work six days a week and are off on Sundays.
In the last few weeks, Freeman said she went to work in the shipping and labeling department without proper gear and when she asked to take "a half point and go home," her supervisor said she'd be suspended if she left. They gave her new gloves and sent her back.
"It is unsafe. One lady they sent from my department to shipping and labeling, I haven't seen her since she went to work there days ago," Freeman said on April 30.
On Saturday, many on the day shift employees were told that the night shift would begin working at 4:25 p.m., so employees could leave around 4:30 or 5 p.m., Doe said. Instead, they were kept until 7 p.m. but offered free chicken.
"Some people are at six points and couldn't leave because they would get terminated. … We hadn't had a break since 1:30 p.m.," Doe said.
"It's so cold and (shipping and labeling) runs 24/7," Doe said. "The workers do 12-hour shifts, seven days a week. They don't have time to sanitize there like they do upstairs and downstairs."
The employees in shipping and labeling are on the same point system as everyone else, both employees said.
Doe also has been sent to shipping and labeling since finding out about the positive cases at the plant, he said, but he doesn't know if he'd been there before, on the same shift, or after someone's shift who was sick.
"I wanted to walk out at that point, but it is one of the only places still open, and I need a job," Doe said. "We're essential workers."
Doe also said he felt betrayed by the act President Donald Trump signed, keeping meat packing plants open despite their impact on the rising hotspots.
Most employees have five personal days of unpaid leave, Freeman said. The company didn't say whether or not employees with the coronavirus would receive paid time off.
Neither employee wants to lose their jobs, but they insist changes must be made at the plant for the overall health and well-being of everyone. They both agree the company needs to be more transparent, should implement additional safety precautions and should give employees actual paid time off to care for themselves during the pandemic.
"The workers would feel safer if they did shut down for two weeks so everyone could be under quarantine if there's anyone that has it but is not showing symptoms," Freeman said.
The company also could use that time to properly clean the facility and ensure that the virus has been eradicated from the premises before bringing employees back, she suggested.
"I get it, it's chicken. It's important for survival, people need to eat, and Pilgrim's chicken is affordable, and it's totally understandable that people live on it," Doe said. "But there need to be more precautions.
"They keep information from us workers so they can keep making profit. We work all day and sacrifice our lives for chicken, the least they could've done was be honest."