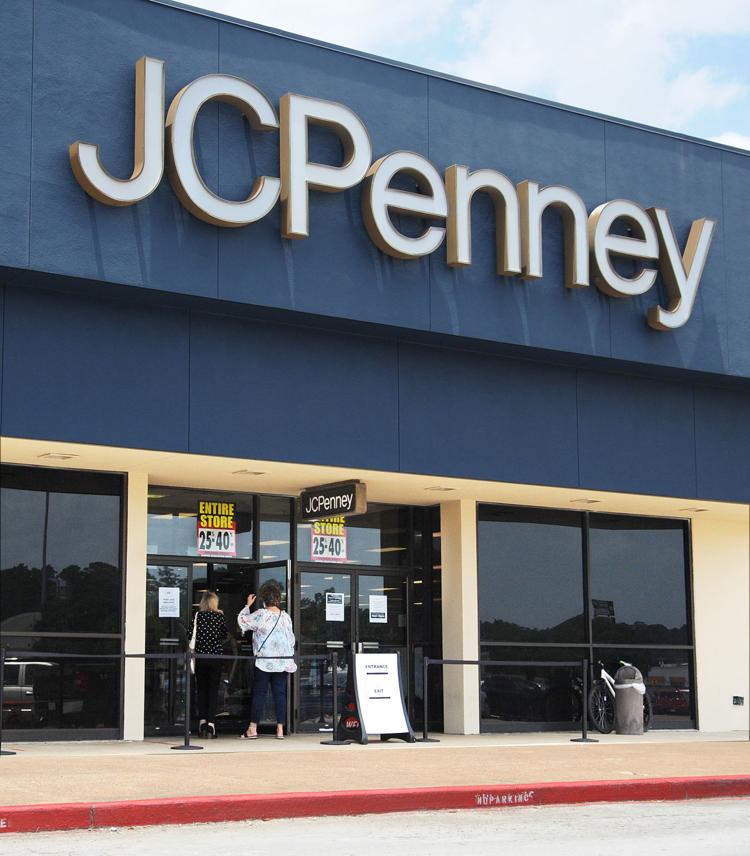 The coronavirus pandemic put stress on many retailers across the country, and that stress was clearly seen in East Texas. Many were afraid their favorite stores would never reopen, but from the looks of the Lufkin Mall, that will not be the case.
Lufkin Mall general manager Mike Welborn said every store but AMC Theaters has reopened, and he expects AMC to open in the coming weeks.
"For the tenants who have been open the whole month, a lot of them are up on sales. We showed growth over last year," Welborn said. "That's not 100% across the board — some of them worked reduced hours for a few and they're trying to get people to come back to the workforce. We're still going to do all our future plans. Nothing's been canceled — maybe just put on hold for a couple months."
One of the most notable updates is JCPenney. The company filed for bankruptcy on May 15 and announced it would be closing 154 stores on June 4, adding 13 closures to that list on June 22.
Lufkin's store was listed among many until this week. Welborn said he couldn't confirm that the store would remain open, but the store closing signs have been taken down, and he is just waiting on a written agreement from corporate.
JCPenney Lufkin general manager Marcia Best confirmed that the store is no longer on the closing list but referred all questions to the corporate office. The Lufkin Daily News reached out to Brooke Buchanan, senior vice president of communications, and Kristen Bennett, manager of communications, provided the following statement:
"As we proceed through the restructuring process and continue to conduct comprehensive evaluations of our retail footprint and a careful analysis of store performance and future strategic fit for JCPenney, some locations have been removed from the originally-announced list of store closures, including our Lufkin store. We look forward to emerging from Chapter 11 a stronger retailer as we continue creating engaging experiences for our customers. Nearly all of our stores have reopened nationwide and we are pleased to welcome customers and associates back to stores with many safety precautions in place."
The JCPenney website said a handful of previously announced store closing locations remain on hold pending further review. The only Texas locations that still remain on the list are: Greenville, Huntsville, Lewisville, Palestine and Paris.
Victoria's Secret and Bath & Body Works were also two stores many thought may never reopen. Both reopened a number of weeks ago. A manager at Bath & Body Works referred all questions to corporate.
The Bath & Body Works store locator says the Lufkin location is open "with safety guidelines," and a recording on their customer service line says: "We are excited that many of our stores have now reopened. Please check our store locator on BathAndBodyWorks.com. We're opening more stores every week throughout the summer, so check back often or sign up to be notified when your local store is reopened on BathAndBodyWorks.com. Please also note, our store locations are now accepting returns. As always, stay safe."
Victoria's Secret Store Manager Ashley Richard said the store opened on June 1, and employees found out about the reopening a week before. She also said all employees remained and were paid through furlough.
"Business has been great," Richard said. "They (customers) are excited; it's almost like we were never closed."
Welborn said he believes the Lufkin AMC will be open next week. However, the corporate office announced on June 29 that the company would resume theater operations at approximately 450 U.S. locations on July 30 and approximately 150 remaining locations the following week "in time for a theatrical slate commencing in August that appeals to audiences of every segment."
"Our theater general managers across the U.S. started working full time again today and are back in their theaters gearing up to get their buildings fully ready just a few weeks from now for moviegoers," CEO Adam Aron said in a June 29 statement. "That happy day, when we can welcome guests back into most of our U.S. theaters, will be Thursday, July 30."
The notice to investors stated the slight pushback by two weeks of the U.S. dates takes into account the newly scheduled release dates of Disney's "Mulan" and Warner Bros' "Tenet."
"AMC currently expects that at least some theaters in all the 14 countries in which AMC operates outside the U.S. will have opened by July 30 as well, with a full global opening of theaters completed by early August," the notice reads.