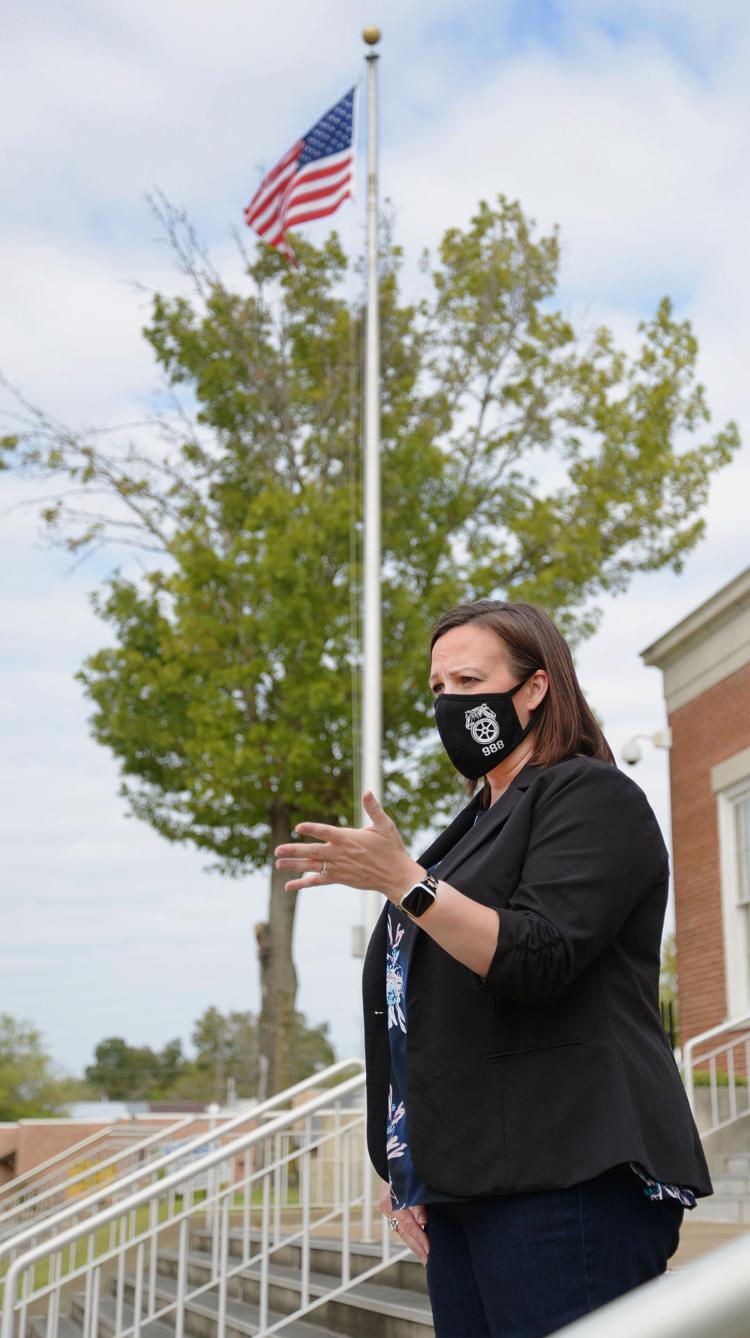 U.S. Senate Democratic candidate MJ Hegar made a stop in Lufkin on her tour through East Texas Saturday afternoon.
Hegar is running against incumbent Republican Sen. John Cornyn, who has held the seat since 2002.
Hegar was a U.S. Air Force pilot who was awarded the Purple Heart and the only woman to have received the Distinguished Flying Cross with Valor after her helicopter was shot down by the Taliban and she was injured by enemy gunfire, according to her website.
Because of those injuries, she was unable to fly and was legally not allowed to compete for a combat position on the ground because she was a woman. She worked in Washington to overturn that rule and her actions resulted in opening up more jobs for women in the military, her website states.
She said she believes Cornyn has done little to actually help Texas citizens and promised to do more to make the middle, working class lives easier.
"People like us, regular people out here, not people inside the little bubble like John Cornyn is — we're disposable to do them," she said. "We're expected to do our part to keep society going and to contribute to our economy. While we need him fighting for protection for frontline workers, he's there fighting to keep negligent companies protected from liability and fighting for his corporate donors."
Her support in Lufkin, she said, was huge. But she has seen more Democrats coming out of the woodwork, and more people who are just tired of Cornyn, coming out in support of her campaign, she said.
"John Cornyn is constantly lying, consistently getting fact-checked as a liar," Hegar said. "It's because he can't run on his record. He doesn't have something he can point to and say, 'Look what I have done to make your life better.' In 18 years in the Senate, a third of that time he had the majority in the House, the Senate and the White House. If he wanted to get any of this stuff done, he would have gotten it done."
More needs to be done on the public healthcare front to get the pandemic under control, she said. And more needs to be done to protect the working middle class and to get them back on their feet.
Hegar pointed out how important health care is by looking at how hard it is to keep rural hospitals open because there was little access to health care in most of the state.
"I don't know about you all, but I am tired of being one injury or illness away from bankrupting my family," she said. "It took me years to pay off having a child. It's ridiculous. Out of control. And it's a system built to protect a very small minority of wealthy, powerful people."
When asked about Naskila Gaming, the electronic bingo facility operated by the Alabama-Coushatta Tribe, and whether she would support their right to continue operations, she likened the issue to the fight to legalize marijuana. She said the issue shouldn't be one person's morality being imposed on another, as she believes Cornyn is doing currently, but that an operation should be looked at as a whole to see how it impacts the community.
"You have to think about other aspects," she said. "I support small business — not just small business in line with what I think should be happening in the world. But I support entrepreneurship and I support the Tribe."
She plans to lead by working directly with communities, asking what they need and how she can help them to reach the root cause of the problem.
"I voted for John Cornyn in 2002 when he was saying we need a pathway to citizenship, we need to close the gun show loophole, we need to understand that Roe v. Wade is the law of the land," Hegar said.
She said those promises, and his current stance to protect pre-existing conditions in the public health care fight, are a lie.
"I'm tired of being lied to by these snake oil salesmen," she said. "We've got to stop just trusting and listening to what people say and start doing some research about what they've done."