TYLER — The Hank Gilbert for Congress campaign has backed off claims the Tyler Police Department is not taking assault allegations seriously after the department asked for help from the public identifying individuals involved in an "assault" Sunday.
A counter protest against Gilbert's protest against violence in Portland called a "Back the Blue Rally" turned into a large gathering of supporters of President Donald Trump with shirts, hats and signs. There were many people carrying weapons around the square downtown and none were involved in any of the violence that took place.
Gilbert is running against U.S. Rep. Louie Gohmert (R-Tyler), who said of the rally he has "consistently condemned violence which is why I supported President Trump's efforts to stop the rioting, violence, vandalism and mayhem being created and encouraged by violent leftists around the country. When I talk about fighting, it is in a war of words where truth is the best weapon, not these mean spirited Democrat strategies to provoke violence."
A new video released Wednesday shows Gilbert's campaign manager, Ryan Miller, get punched several times, but not by the two people the Tyler Police Department is looking for.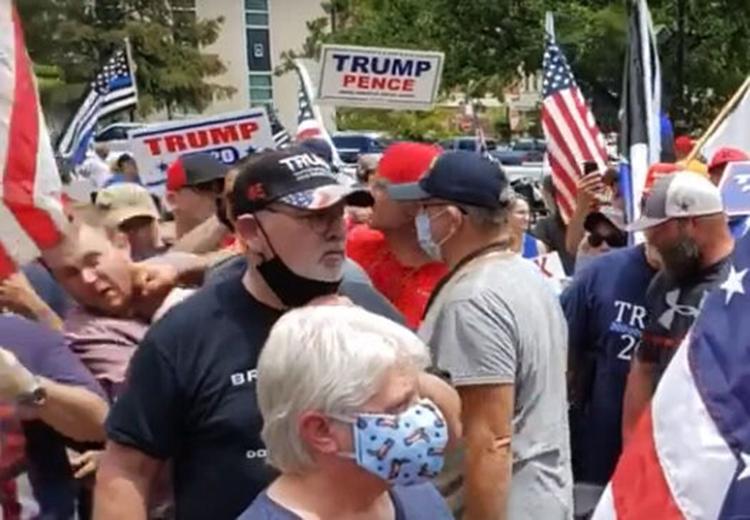 The Tyler Police Department sent out photos of two men they said are "suspected of stealing the cellphone of Ryan Miller" and another "suspected in his assault." One of the two were identified by the public on Wednesday.
A woman, who was identified in previous articles but is not part of an investigation, said she was called a name and the situation became violent when her father stepped in and choked one of Gilbert's supporters. About 15 feet away, right when Miller said his cellphone was stolen, he can be seen mouthing to his mom, near the monuments, "I need help." Suddenly a fist comes in and hits him in the face and at least one other blow hits his body. His mother tried to come over to help, but two men stood in front of her and did not allow her to get into the crowd.
The Tyler Police Department said they had not received the video yet, but Vince Leibowitz, a spokesman for the Gilbert campaign, said Miller has an attorney and they are presenting more video to the police department.
"This video proves, once and for all, that Ryan Miller did not call (the woman who is not being investigated) a name, and that he was punched in the face and jumped, and further beat up, by Gohmert supporters," said Leibowitz. "(She) can tell the media all she wants that Ryan Miller called her (swear words) and pushed her, and the video proves her wrong. (She) is a liar, and her lies about what happened should be corrected. She's lying like Congressman Gohmert does, and the media must correct her widely published lies."
On Tuesday, Gilbert sent out a press release wondering why arrests had not been made, saying, "Clearly, we need to investigate the investigators here. The Texas Rangers need to come up here, walk through the doors of the Tyler PD headquarters, and ask what in the heck is happening in Tyler, Texas."
The Tyler Morning Telegraph pointed out to Leibowitz that the department sent out a special press release on the incident, something that is usually reserved for Fridays asking the public for help on a variety of cases.
The tone of the campaign changed.
"So far, I think they have done an admirable job and they have proved those who may have doubted them they will work this case to the fullest of their ability and that's what every citizen should expect from their police department," said Leibowitz. "We are grateful they brought so much attention to the case on their own to bring these people to justice. That's what these people intended all along."
Leibowitz said since Sunday, Gilbert's campaign has received $30,000 in new donations (those numbers have not been released yet) and said they have brought on 15 new volunteers. According to the Federal Election Commission, the next campaign finance report for U.S. congressional candidates is due Oct. 15.
"We've seen a tremendous increase in donations," said Leibowitz. "We've had between 300 and 500 from all over the country contact us through the website (and) Facebook and Twitter direct messages. It's difficult to get back to all of them."
On Monday, Gohmert said, "I have no firsthand knowledge of what went on, because I was not there, did not organize it, didn't know about it until it was taking place, and I was going to catch a plane back to Washington. But, what came to my mind is the violence Democrat leaders paid to create at Trump campaign events in 2016, followed by Democrats then claiming Donald Trump incited violence. They created the mess, then blamed candidate Trump. There are Democrats and Marxists doing the same thing this year as well. It is difficult to tell, from what I understand today, who started what."