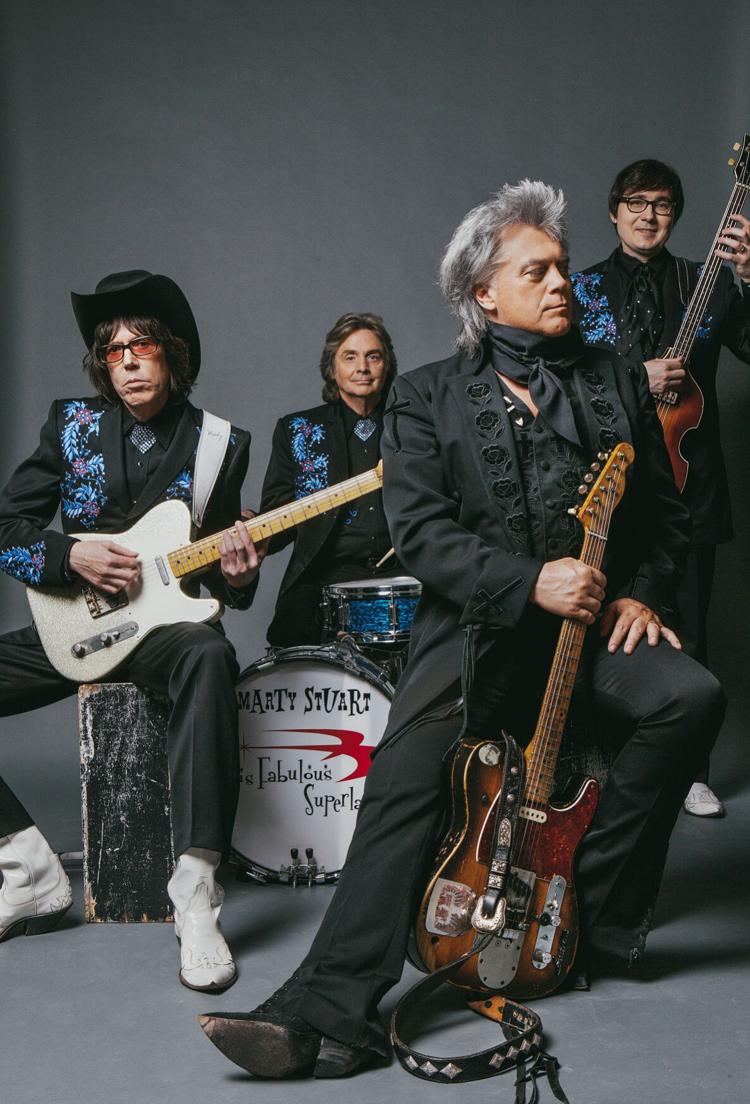 Single tickets for the Angelina Arts Alliance's 2020-21 Performing Arts and Discovery Series go on sale at 11 a.m. Monday.
Ticket orders can be made online at AngelinaArts.org or over the phone at 633-5454.
The season line-up contains a diverse range of performances, providing high-quality entertainment to East Texas residents. The theme for the 20th anniversary season is "A Toast to Our 20th.''
Performances include:
■ Annie Moses Band, 7:30 p.m. Nov. 14
Single tickets $30-$40
From the roots of the Grand Ole Opry to the wings of Carnegie Hall, the Annie Moses Band has been taking music to new heights for more than a decade.
As the "first family of American music," this sibling band applies its classically honed, all-American talent to a cornucopia of iconic melodies through innovative arrangements and masterful original songwriting.
The Nashville-raised and New York-trained ensemble delivers a spellbinding musical odyssey.
■ Marty Stuart & His Fabulous Superlatives, 7:30 p.m. Jan. 16, 2021
Single tickets $25-$40
The Grammy-winning singer, songwriter and musician is living, breathing country-music history. He's played alongside the masters, from Johnny Cash to Lester Flatt, who discovered him; been a worldwide ambassador for Nashville, Bakersfield and points in between; and safeguarded country music's most valuable traditions.
When it comes to transforming country songs into tangible experience, Marty Stuart has a secret weapon: the Fabulous Superlatives. Made up of guitarist Kenny Vaughan, drummer Harry Stinson and new member, bassist Chris Scruggs, the Superlatives are an extension of Stuart himself.
■ An Evening with Renée Elise Goldsberry, 7:30 p.m. Feb. 5, 2021
Single tickets $45-$60
The winner of the 2016 Tony Award for her performance in ''Hamilton,'' Renée Elise Goldsberry is equally at home in a Broadway theater, a film set or on a concert hall stage. Anchored by a four-piece band and a complement of backup singers, her dynamic show is titled ''Revive.''
The audience will be on their feet stomping and clapping to the high energy concert and will feel like they've attended an old-fashioned revival.
■ Steep Canyon Rangers, 7:30 p.m. March 26, 2021
Single tickets $30-$45
Six guys. One Grammy. Endless bluegrass hits. This concert event fuses together the sounds of bluegrass, pop, country and folk rock for an incredible American musical experience.
Celebrated as one of the most versatile bands on the contemporary music scene, Steep Canyon Rangers have taken the world by storm for nearly 20 years, including performances on ''Late Night With Jimmy Fallon'' and a hit tour with Steve Martin.
And they're not just all about that (upright) bass: their toe-tapping tunes also are accompanied by acoustic guitar, banjo, mandolin, fiddle and more.
■ Parsons Dance Company, 7:30 p.m. April 8, 2021
Single tickets $20-$35
Known for their remarkable athleticism and stunning ensemble work, Parsons Dance Company brings exuberance, joy and passion to any stage.
Flawlessly fusing the gestures and movements that comprise modern dance with the discipline and precision of a classical dance company, the company is internationally renowned. Stunning works, like the iconic Caught, exemplify this company's innovation and huge audience appeal.
■ ''Escape to Margaritaville,'' 7:30 p.m. May 20, 2021
Single tickets $55-$70
Welcome to Margaritaville, where people come to get away from it all — and stay to find something they never expected.
With a book by Emmy Award-winner Greg Garcia (''My Name is Earl'' and ''Raising Hope'') and Emmy Award-nominee Mike O'Malley (''Survivors Remorse'' and ''Shameless''), ''Escape to Margaritaville'' is the musical comedy featuring both original songs and your most-loved Jimmy Buffett classics, including ''Fins,'' ''Volcano,'' ''Cheeseburger in Paradise'' and many more.
■ Blue Man Group, April 15-16, 2021
Single tickets $50-$65
More than 35 million people around the world have experienced the smash hit phenomenon that is Blue Man Group, and now it's your turn. It's everything you know and love about Blue Man Group — signature drumming, colorful moments of creativity and quirky comedy — the men are still blue, but the rest is all new.
Featuring pulsing, original music, custom-made instruments, surprise audience interaction and hilarious absurdity, join the Blue Men in a joyful experience that unites audiences of all ages.
Angelina Arts continues its commitment to fun and educational family programming for all ages with its 2020-21 Discovery Series. Tickets for performances are $6 for youth (17 years and under) and $11 for adults.
■ Very Electric Christmas, 2 p.m. Dec. 19
Brighten your holidays with Lightwire Theater's A Very Electric Christmas! Audiences of all ages will treasure this captivating tale of family, friendship and hope set to timeless holiday tunes.
Combining the arts of puppetry, theater and dance, audiences will be captivated by the dazzling visuals and delightful characters that magically appear out of the darkness.
In this tale, Santa's helpers are putting the final touches on presents as a young bird named Max and his family head south for the winter. Poor Max gets blown off course during a snowstorm, and he ends up alone and lost at the North Pole. His adventure begins as he tries to make his way home.
This delightful holiday production will make children wide-eyed with delight and warm even the smallest of hearts.
■ Innovation Nation — Live!, 2 p.m. March 6, 2021
The two-time Emmy Award-winning Saturday morning TV show comes to life in a brand-new production. It will inspire audiences with entertaining and educational stories about yesterday and today's visionaries and innovators.
The show highlights major turning points in the past and present that influenced the fields of science, technology, engineering, math, the environment and social justice.
Luminaries of the past featured include Henry Ford, the Wright Brothers, Rosa Parks and George Washington Carver, among others, who will jump to life on stage.
Their achievements will be highlighted and reflected by showing examples of present-day innovations.
■ The Bike Zoo, April 17, 2021
The Bike Zoo is a magical, immersive and interactive environment for people of all ages and from all walks of life.
The free show is being presented in partnership with the Lufkin Convention and Visitors Bureau as part of Springfest.
The ever-growing menagerie of giant, playful, interactive, hand-built creatures includes The Giant 80-foot-long Rattlesnake, an assortment of many Giant Butterflies, The Beloved Bat, the Fanciful Owl, Bald Eagle, Praying Mantis, Reindeer Drawn Sleigh, Bicycle Carousel, and the latest, The Giant Armadillo.
■ Bella Gaia, 2 p.m. April 25, 2021
Bella Gaia (Beautiful Earth) will show the audience what it's like to be an astronaut. The audio-visual experience combines NASA satellite imagery of earth, time-lapse nature photography and live world music and dance on the stage.
Inspired by astronauts who spoke of the life-changing power of seeing Earth from space, director/composer Kenji Williams' award-winning Bella Gaia successfully simulates the overview effect from space flight, by using NASA super computer data-visualizations, combined with a shimmering melodic and rhythmic soundscape to explore the relationship between humans and nature throughout time and space.
■ ''Madagascar — The Musical,'' 2 p.m. May 16, 2021
''Madagascar — The Musical,'' based on the DreamWorks Animation movie will close out the Discovery Series.
Audiences get to watch as beloved characters Alex the Lion, Marty the Zebra, Melman the Giraffe, Gloria the hip hip Hippo and the famous, innovative penguins, escape from the New York Central Park Zoo and find themselves on an unexpected journey to the madcap world of King Julien's Madagascar.
Filled with outlandish characters, adventures galore and an upbeat score, you'll have no choice but to "Move It, Move It!" The show is a perfect family outing, with vibrancy and pace for the kids and more complex innuendo for the adults.