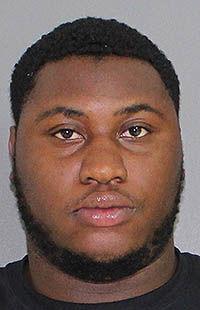 Two men were flown to out-of-town hospitals and another man is at large after a shooting early this morning on Ash Street in Diboll, according to Diboll Police Chief Steve Baker.
Marcus Avila, 20, was flown to a Houston hospital where he is in "serious condition," while Seth Eckman, 19, was flown to a Tyler hospital with several wounds, Baker said. Hometowns of the two victims were not immediately known.
The suspect, Christopher Charles Hunt, 23, of Lufkin, "could definitely be considered dangerous," Baker said.
"He allegedly stole two assault rifles and one was one he used in the assault on the two subjects."
Baker said the last his department had heard, "we thought he was supposed to be in the Lufkin area."
Diboll police are still investigating the shooting that occurred around 6 a.m. today just outside the Housing Authority.
"There was a Black male that had shot a white male in a residence, and supposedly took weapons from that residence, and when he left the residence he engaged somebody else and shot them, too," Baker said. "I think there was return fire to him, but no one else was hit."
Eckman was shot several times inside the residence while Avila — who was outside in a vehicle — was shot in the neck, Baker said.
"We're just not releasing a lot of the information right now," Baker said. "We're just kind of digging into it."
Avila is in a Houston hospital, and while he was alert when he left the scene, "I think they placed him on a ventilator already," Baker said.
Eckman is in a Tyler hospital with several wounds, including some to the abdomen area.
"I heard he was going to be OK, but that it would probably be a long road to recovery," Baker said. "But I really don't know."
Diboll police are not yet sure of the details that led to the robbery and shooting and hope to have more information Monday.