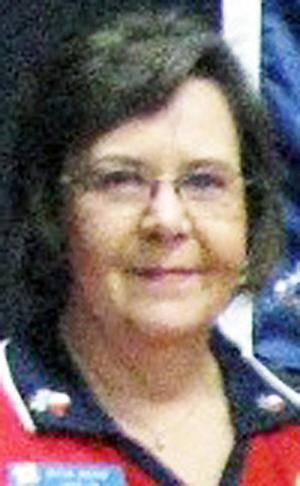 Memorial Day has just passed and now we move into summer.
But Memorial Day this year was a bit different. No Memorial poppy distribution was the first thing we missed. But we were able to place flags on the graves of many veterans in at least six of the area cemeteries. A big thank you to the Pineywoods Jeep People and Trail Life Troop 1807 for your help again this year.
Another big thank you goes to The Lufkin Daily News. As always, they did an excellent job on the Memorial Day special section. The proceeds from that section go a long way in helping our local veterans as well as our deployed troops.
As of this writing, the Angelina County Senior Citizens Center where we meet is still closed and will not be open June 1, so we'll go another month without having an official meeting. Hopefully, we will be back to normal in July. We are not sure when we will be allowed back into the VA Clinic here or in Houston, but please do not stop donating. We are still sending boxes to the troops every month and are working with others on providing ongoing help for our local homeless and in-need veterans.
Our Girls State and Boys State programs could not be held this June as in the past, but a virtual program has been set up with interactive events online.
We feel sure that by November, we will be able to have the annual Veterans Day parade and other events, including distribution of Memorial poppies that we missed this Memorial Day.
Then in December we will have our annual Wreaths Across America program at Garden of Memories Memorial Park with Gipson Funeral Home.
We found out this past Saturday while at Garden of Memories there are still quite a few veterans out there who do not have military markers. We are constantly working on our database to identify every veteran out there and where they are located (by sections) to help our volunteers find and make sure every veteran has a wreath, providing we get enough wreaths sponsored.
We are only about 10% there now that we have verified more than 1,000 veterans. If you have a veteran loved one in Garden of Memories and they do not have a military marker, please let us know their name, DOB, DOD, military branch and service era. Email to ala113@consolidated.net or text to 674-7347. Please take a few minutes to go online to the Angelina County Wreaths Across America and sponsor a wreath today.
The American Legion Family No. 113 is always looking for new members and supporters. Even though we do not have our own building, we still do a lot for our veterans, their families and our community and need and want you to join us.
There are still a lot of people who don't realize that even if you don't qualify for the VFW because you never went overseas during war times or were in service during peace times, you still qualify for the American Legion. Same with DAV, you must be a qualified disabled veteran to join them, but still qualify for the American Legion.
It's the same with several other veteran service organizations. So many pinpoint and focus on location of service during war time, physical abilities or a specific war like the Vietnam veterans or combat veterans. All are great organizations and if you qualify, we urge you to check them out. But even if you are a member of one or more of the other organizations, you still qualify for the American Legion. Many members also are members of other organizations.
I do not normally talk about my personal qualifications, but I am a member of the VFW Auxiliary as well as the American Legion Auxiliary and proud of being a member of both. Many organizations have specific programs or goals. I personally just prefer the American Legion Auxiliary programs, which is the reason I am more active in the American Legion Auxiliary on both a local and a state level.
It really bothers me to hear, "There's nothing for my kids to do here!" There are tons of programs and activities designed specifically for our youth, but it takes more than one or two. While school is out, take some time and check out the many programs for our youth that we would love to get started here in Lufkin, but it takes your interest.
If you are a veteran with an honorable discharge or the spouse or immediate family member of a veteran, please consider joining our ranks in support of so many that are unable to do so themselves.
We meet monthly on the first Monday of the month at the Angelina Senior Citizens Center and would welcome your visit. The Auxiliary meets at 5:30 p.m. and the Post meets at 6 p.m. No formal meeting again in June. Hopefully, meetings can start back in July.