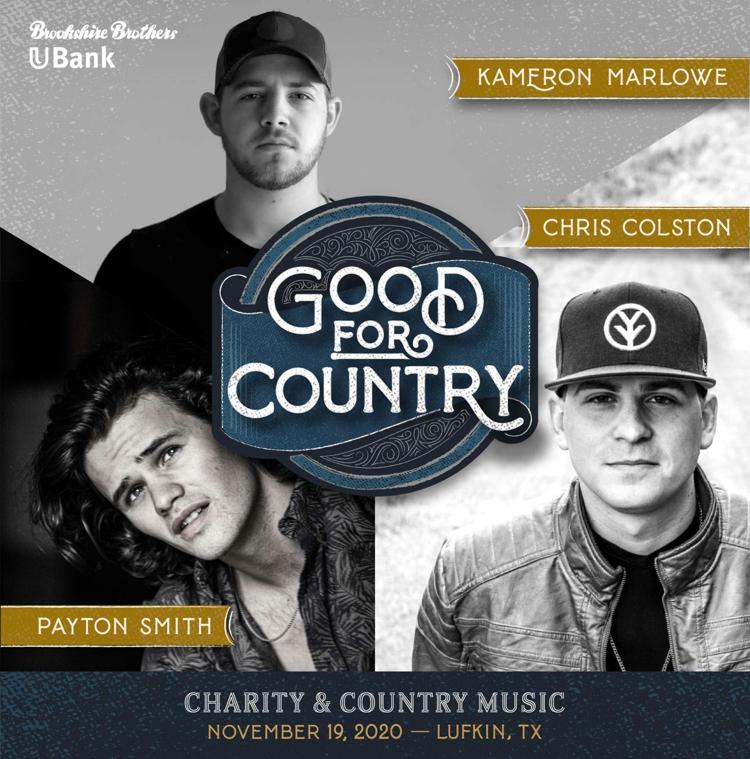 If coronavirus protocol has you climbing the walls, a trio of Nashville artists, some ribeye sandwiches and a night under the stars could be just the ticket for a socially-distanced good time.
UBank and Brookshire Brothers are teaming up to bring the first installment of its free "Good for Country" concert series to Lufkin Thursday, with an acoustic song-swap featuring Chris Colston, Kameron Marlowe and Payton Smith, whose tracks have all been featured on Spotify's top country playlists.
The concert will take place in the grassy area beside UBank's Lufkin location (formerly Huntington State Bank) on South First Street. Attendees can begin arriving around 6 p.m. and the show will start at 7:30.
"As one of the only locally-owned banks left in East Texas, we're always looking for creative ways to bring our community together," said Zach Dominy, UBank's Lufkin market president. "When we had the opportunity to host a country music concert in a safe, COVID-conscious way, it was a no-brainer because we feel that community togetherness is needed now more than ever."
The Lufkin Roundtable will be serving up their famous ribeye sandwiches on-site. As always, all proceeds from those sales go toward a scholarship fund benefiting Angelina County FFA, 4-H and family science students.
All city and state guidelines regarding COVID-19 will be enforced to ensure attendees and artists stay as safe as possible. Everyone is encouraged to bring a mask, lawn chairs, blankets and anything else needed to comfortably enjoy an outdoor show. Masks also will be distributed and hand sanitizer will be available.
"We are proud to partner with UBank to bring live music in a safe manner to Lufkin," said Adam Lowther, marketing project manager for Brookshire Brothers. "We hope you will come out and enjoy the show."
East Texas native Colston recently emerged on the Texas/Red Dirt scene with the release of his 2018 EP "Gone," with the title track surpassing a half-million streams on Spotify just a few short months after its release.
His music is heavily influenced by Lynyrd Skynyrd, The Allman Brothers Band, Merle Haggard and Willie Nelson, while his sound is inspired by Whiskey Myers and Blackberry Smoke. Listening to them helped Colston curate his own style of what he describes in a bio on his website as "gritty Texas roots combined with a little blues and rock 'n' roll."
Marlowe's independent debut release "Giving You Up" is a heartbreak anthem that has already surpassed 15 million streams.
Born in the small town of Kannapolis, North Carolina, Marlowe sold car parts at General Motors before a recruiter from NBC's "The Voice" found performance videos on YouTube and reached out with an offer to take him straight to the live auditions. And while he didn't win, Marlowe said "The Voice" is responsible for getting him to Nashville in a bio on his website.
His influences include Brooks & Dunn, George Strait, Travis Tritt and Ray Charles, while his sound is a culmination of his life-long love of country music established while riding around in his grandpa's truck listening to Garth Brooks and Darius Rucker.
Singer, songwriter and self-taught guitarist Smith caught the ear of Big Machine Label Group head Scott Borchetta during a slot on one of the smaller stages at CMA Fest in 2018. A few weeks later, after sharing some demos with Borchetta, Payton learned the label was offering him a record deal.
A fan of 1990s country and guitar rock, Smith lists influences as diverse as Pearl Jam, Clint Black, George Strait, John Mayer, Keith Urban, Eric Church and Luke Combs.
He co-wrote a collection of songs for his new self-titled EP that highlight his gifts as a vocalist and writer while he emphasized his skills as a nimble guitarist by playing every guitar part on each track.
The project's "Can't Go Wrong With That" distills his country and rock influences into a guitar-forward song poking fun at things people are happy to argue about — rivers vs. lakes, Ford vs. Chevy, Jim vs. Jack — while the chorus notes some issues we all agree on — "namely that Willie Nelson on vinyl, Friday-night football and cold beer are all unimpeachable," the bio on his website states.
Parking will be available in a vacant lot at the concert site and the empty lot where El Chico was located, and complimentary golf carts will shuttle guests to and from the show.
Good for Country is free for all ages, but a digital or physical ticket must be presented upon entry. To sign up, visit the concert's Facebook event page.