The Angelina County Sheriff's Office reported Travis Melancon, of Beaumont, had been found after he went missing from a store on Saturday.
"Great News! Prayers have been answered! Travis Melancon has been found!" a Facebook post from the office reported Monday morning.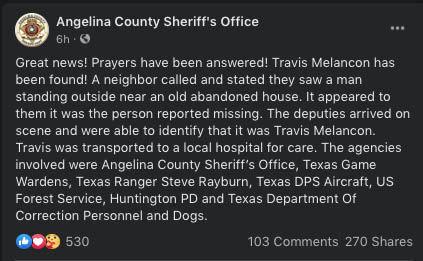 The post said a neighbor called the sheriff's office and said they saw a man standing outside near an old abandoned house who appeared to be the man reported missing.
The sheriff's office located Melancon's vehicle around midnight Sunday at the intersection of U.S. Highway 69 south and FM 1818 after a welfare concern was called in by his wife who said he had left his home to go to the store around 3 p.m. Saturday and had never returned.
The sheriff's office coordinated with the Texas Game Wardens, Texas Ranger Steve Rayburn, Texas Department of Public Safety, U.S. Forest Service, Huntington Police Department and Texas Department of Corrections for a search and rescue of the area around Zavalla and Huntington where the vehicle was found.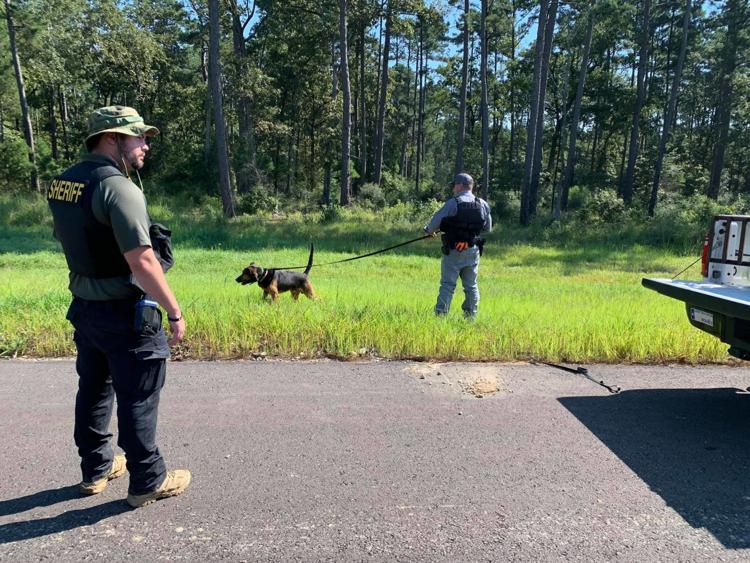 Helicopters from DPS searched the area from the skies, and personnel and dogs searched from the ground throughout Sunday and into the morning Monday.
The sheriff's office asked the public to contact them with any information but not to approach Melancon by themselves. After the individual reported seeing Melancon, deputies arrived and were able to identify that it was him.
The Facebook post states that Melancon was then transported to a local hospital for care.